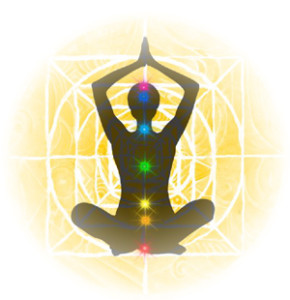 Simple Methods to Clear Your Energy: The Gift of Gratitude
"In every culture and every medical tradition before ours, healing was accomplished by moving energy." – Albert Szent-Gyorgyi, Nobel laureate in Medicine
Nothing's the Matter. Quantum physics shows that matter is simply a certain vibratory rate of energy. You are matter. You are vibrating energy. Have you ever met someone and said, "She has a great vibe"? Chances are, you picked up on her healthy, vibrant energy.
You are a complex energy network with a multi-layer energy system moving prana or chi – the life force – through your body. You have seven major chakras (energy centers). The energy flowing in and out of these chakras moves through your body through a series of meridians (energetic pathways). There are twelve major meridians that correlate to the organs and systems in the body. With all this energy flowing through and around you, it is no surprise you're like a giant electromagnet. In fact, it has become widely accepted that the human body has an electromagnetic field – or biofield – that extends several feet out. This field is known as the "aura."
So if we're made up of energy, doesn't it make sense that healing our energy can heal our "matter?"
The Causes and Effects of Energy Distortions. Your energetic system is like an orchestra with many instruments with different strings vibrating at different frequencies. These instruments must be in tune with one another to sound harmonious and will sound discordant if out of tune. And while the orchestra has many frequencies, the dominant sound will be lower in pitch if the orchestra has many more cellos than violins. Your energetic system also has many different vibrations at once, but they all contribute to your overall vibrational frequency.
So what do blockages, distortions, and lower vibrations through your chakras, meridians, and your aura have to do with your health, joy, and vitality? Emotional, mental, and physical ailments arise when you have energy blocks or distortions anywhere in the complex energy matrix.
Energy healing works on the body's energy systems to release blocked energy or repair distortions in chakras, meridians, and the aura. This is what is meant by "clearing your energy."
What causes blocked or distorted energy? Here are just a few common examples:
– Electromagnetic pollution from wireless devices and phones
– Negative or unreleased thoughts or feelings (conscious or subconscious)
– Cultural toxins that promote fear or drama, like the news
– Interaction with individuals who act as "energy vampires"
– Exposure to places with a low or disruptive energy ("bad vibe")
Any the factors above can affect your natural energy flow and lower your vibration. For example, repressed emotions require a great deal of energy to keep them buried. So unresolved feelings or experiences sap your natural energy flow, creating blockages in your energy system. In turn, this can result in a weakened immune system and eventually manifest as into other physical ailments.
Chances are, you've experienced some of these effects. So how can you help yourself? What does it mean to clear your energy?
How do you know when you need to clear your energy? Often, you will experience spiritual, emotional, psychological, or physical symptoms such as detachment, anxiety, compulsive negative thinking, unbalanced emotions, indecisiveness, fatigue, lack of vitality, feeling "heavy," headaches, illness or shadow pains.
So how can you help yourself? The following are 3 simple methods to clear your energy.
Smudging. Burning sage (known as smudging) is a powerful and effective way to clear unwanted energy from your aura and your home. Smudging brings about peace and clarity and can help maintain a healthy energetic environment.
To smudge, open windows or doors to vent the place and to allow energy a place to go. Light the open end of the sage and put it in a bowl. Set a positive intention such as, "I seek to create an atmosphere of white, divine light." Or, "I intend to clear energy that does not serve my highest self."
Now, smudge yourself from toes to head by filling your aura with purifying smoke. Walk through each room and allow the smoke to fill ever area of the space. Include the corners and behind doors! Sweep from bottom to top in a clockwise motion. Bring to mind your intention and recite it silently or aloud as you move from room to room. At the end, say some words of gratitude and imagine white light filling up the space.
Auric Brushing. Your aura – the electromagnetic field around your body – can accumulate lower vibrations (or darker energies).
Auric brushing is simple. I suggest a daily auric brushing during a shower. It's a perfect time to release energy you may have inadvertently collected, while using water to further purify your energetic field. Create an intention for clearing away energy that does not serve you. Imagine bright white energy filling and surrounding your body. Now, just as you would brush your hair, imagine brushing the energy field around your body with your hands. With the fingers of each hand wide apart, "comb" through the energy field a few inches away from the body. Use long, continuous strokes beginning 15 inches from the top of the head and continue brushing down to the toes. Comb front and back. As you reach the toes, imagine forming all the released energy into a ball and pushing it away from you. Express gratitude and be present to white light. That's it! The intention of clearing and the action of brushing loosen and lift embedded energies that no longer serve you.
Himalayan Salt Lamps. Himalayan salt lamps are powerfully versatile for energy clearing and offer a mysteriously attractive look for your home or workspace.
Mined deep underground the Himalayan foothills, Himalayan salt is known for its rejuvenating energies. These salts purify the air with the release of negative ions, creating a neutral ionic atmosphere… similar to what you feel after a thunderstorm or at the beach.
In homes and business today, we are bombarded by positively charged ions from our televisions, computers, mobile phones, etc. ("electro-smog). The electronic devices constantly expose us to frequency vibrations 20 times higher than our brainwaves. Naturally, this takes a toll on our body's electromagnetic field. I recommend placing lamps in high-traffic areas of the home and in bedrooms. Himalayan salt lamps act to harmonize the frequencies in the space and neutralize a buildup of positive ions.
Another great use for Himalayan salt lamps is to clear gems, crystals, and jewelry. Place objects on or around the lamp to clear, balance and restore energy. As with the other techniques, create an intention as you place the objects near the lamp. Once you feel they are clear and ready for use, pick up the objects and take a moment to express gratitude in your personal way.
The Gift of Gratitude. Did you notice an expression of gratitude closed each energy clearing process? Gratitude possesses a powerful vibration in the Universe. Gratitude can be an expression of forgiveness, unconditional love, appreciation, and energetic closure. As you release energy of lower vibration, you release patterns that no longer serve you. In this release, you become more conscious, more awake to your life and the Universe. So, life's obstacles and challenges are designed to be a source for growth and transformation. There can be no light without dark. As you release energy with unconditional love, you create a greater space for Divine, white light. Now that's something to be grateful for!
About Darshana:
Darshana Patel is a gifted Energy Healer/Reiki Master and Spiritual Activist specializing in energy alignment and pattern release to support optimal health, joy, and vitality. Learn more at http://www.unscriptedway.com.