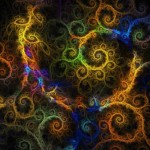 "My religion is very simple. My religion is kindness." – Dalai Lama
Religion needs spirituality. Spirituality does not need religion. I do believe the distinction of religion and spirituality is critical in today's world, fragmented by growing chasms engineered by man's egoic interpretations of the "true path" to God. Spirituality, without the coat of religion, gives us the strength and vulnerability to find our own answers. Spirituality is centered in the mystery and the inquiry about the force that connects all of life. In this seeking, we discover our personal connection with divine consciousness, the fabric of existence. This is an individual journey, requiring us to examine and to release limiting beliefs about ourselves and the world around us.
In our current paradigm, we live in a world of duality (right/wrong, good/bad, light/dark, etc.). This duality leads to limiting thinking and constrained connection with ourselves and with others. What if there is a more holistic view that allows us to see that one end of the spectrum cannot exist without the other? What if there isn't a line with rightness on one side and wrongness on the other? Rather, what if we could represent this spectrum of duality as a sphere with right and wrong balancing on opposing sides? Right and wrong remain in a delicate dance, constantly adjusting to maintain an overall spherical balance. This balance creates a harmony, allowing both dynamics co-exist. Realize each of us is a part of this yin and yang dance. We are all specs on a sphere, tethered together by our very existence, co-creating this experience. Our goodness or badness, rightness or wrongness, lightness or darkness are designed to maintain a grand balance.
The return to the pure essence of spirituality is the recognition that we are more than this physical vehicle – we are a soul, a consciousness, a spiritual being having a physical experience on this earthly plane. The return to spirituality is a path of growing in love and compassion for oneself and all beings. It is in this space of exploration, that one stumbles upon the notion of connectedness, of unity. As such, the degrees of our separation are designed by Infinite Intelligence to nurture our experience, growth, and learning of the complexity of consciousness. We are all one. We were born of one consciousness, and we are all therefore a manifestation of that singular consciousness. We are each a fractal, a petal on the flower of singular Creation. In this paradigm of interconnectedness and singularity, we may experience what is called Christ Consciousness – a vibration of compassion and connection, of seeing the Divine in oneself and all selves.
When we fully embrace the notion that we are all one, singular consciousness, the power of forgiveness rises to a new level: forgiveness of other is forgiveness of self. Likewise, forgiveness of self is forgiveness of other. This is a profound insight on many levels – emotionally, spiritually, and mentally. Forgiveness has the power to dissolve karma – the notion of action and equal reaction or cause and effect.
Christ Consciousness is an opportunity to create Heaven on Earth. This reality is made possible when we embrace our connection, live from the heart and continually forgive, and honor our differences as a delicate dance of energetic balance.
Please visit Aquarius to read the latest issue.
About Darshana:
Darshana Patel is a Spiritual Activist, Energy Healer / Reiki Master, and Founder of Unscripted Way. She is a catalyst in the consciousness revolution. Learn more at http://www.unscriptedway.com.