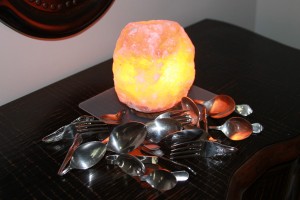 Redefine Your Reality
The image you see are some of the many utensils my teenage daughter and I have manipulated using "mind over matter" – psychokinesis. This is not an illusion or a stage trick, at least not when my daughter and I spoon bend. It's not about learning, but unlearning what you think to be real. It's about letting go of your beliefs.
Spoon Bending in Atlanta & Decatur
Spoon bending is a way to identify and release many of the beliefs that limit the liberation of your highest self – your divine core. By challenging and releasing the beliefs you have about matter itself, you open up a new world of spiritual potential. Matter is energy; energy is mostly empty space. Focus on the empty space, and your relationship to the object shifts. You can interact with the "space" versus what you perceive to be matter. It is about "being" not "doing." After all, you are a human being.
Spoon bending can be a fun and tangible way to explore your energetic nature. As you increase your vibration and release patterns of being and thinking, you elevate your consciousness, your awareness. Then, you may "unscript" – to uncover and rewrite your life's conditioned patterns. This will liberate your true essence and expand life's possibilities.
Want to learn how to do this? Contact me! Or read more about Atlanta Energy Healing and My Approach.
To the critics and skeptics… as quantum physics is proving, the observer influences the outcome of the observed. So, if you expect it won't work, it won't. Your attitude equates to the outcome.